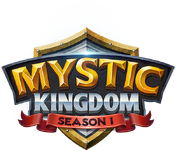 Welcome to the Mystic Kingdom Wikia
Mystic Kingdom is a 2D turn based Anime styled RPG for iOS and Android. Collect extraordinary heroes & heroines, advance your heroes to unlock powerful abilities, and raid your opponents for their resources! Strategically position your heroes to your advantage and overcome your adversaries in both PvP and PvE to include over 200 stages, 8 dungeons, and boss fights.
Ad blocker interference detected!
Wikia is a free-to-use site that makes money from advertising. We have a modified experience for viewers using ad blockers

Wikia is not accessible if you've made further modifications. Remove the custom ad blocker rule(s) and the page will load as expected.